Window Cleaning Las Vegas
The way your feel in your home is important. Windows require regular maintenance just like your lawn and pool. In Las Vegas dust, rain, and smog will make windows dirty and unpleasant to look at. Window cleaning is physical work that can take homeowners a weekend to complete. We ask that you leave the hard work to us, we are professional window cleaners who get the job done safely and quickly.
As a green company, Blue Truck Window Cleaning uses minimal water with an eco-friendly solution for residential Window Cleaning Las Vegas. We have all the professional equipment to make your windows look new! We love to take care of home owners and business owners. To learn how much window cleaning will cost for your windows, call Nick for a free estimate 702-461-5445 . Customers are always happy with their clean windows.
If you search us online you will see many 5 star reviews online, these are posted by happy customers of Blue Truck Window Cleaning. In addition to  professional window cleaning there are other services you can rely on us for. The list of services is below.
Hard Water Removal
Solar Screen Cleaning
Atrium / Skylight Cleaning
Solar Panel Cleaning
Ceiling Fan Cleaning
Chandelier Cleaning
French Window Cleaning / Doors
Light Fixtures
Hard-to-Reach Window Cleaning
Mirror Cleaning
Pressure Washing
Window Sill Cleaning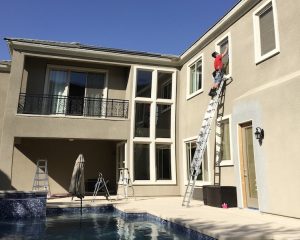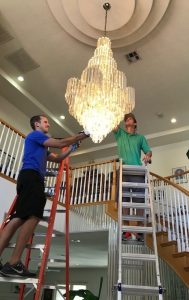 Best Window Cleaning in Town
Along with quality of work we guarantee professional communication and appearance. When we are cleaning your windows we are respectful of your property. We do not have loud conversations, there is no cell phone browsing, we are focused and working. Pricing is kept fair, we do not raise the price depending on your neighborhood. All employees are screened to ensure a trusting relationship with clients.
It is good to know how much your window cleaning will cost. When you call this number 702-461-5445 it will go directly to the owner of the company. The way we do estimates is a quick exterior walk around. The price will be competitive. Call Nick for a no-obligation estimate, it only takes a few minutes 702-461-5445 We guarantee high quality work every time. Thank you for learning about Blue Truck Window Cleaning, each customer is important to us and we appreciate you.
See online reviews here – Yelp Blue Truck Window Cleaning
Las Vegas Window Cleaners
Beyond Las Vegas Window Cleaning we service other areas of Southern Nevada. Here are the areas in Southern Nevada we take care of customers. Henderson Window Cleaning, Anthem Window Cleaning, Summerlin Window Cleaning, Red Rock Window Cleaning, Lake Las Vegas Window Cleaning, Rhodes Ranch Window Cleaning and Mountains Edge Window Cleaning. We take great pride in the professional services we offer and hope to gain your business.